Regents Daily News: November 5, 2018
Momentum for the House System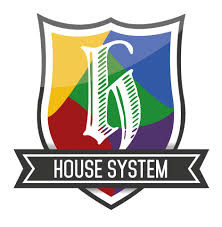 This school year Regents Academy began a new upper school tradition – the House System. The purpose of the House System is to promote a culture of joy, discipleship, and respect among the Logic and Rhetoric School students.  Our hope is that the House System will support strong camaraderie, spiritual growth, unity, and mutual helpfulness among our students.
Logic and Rhetoric students have been divided into four houses: Jerusalem, Rome, Oxford, and Kampala. Each house is led by two seniors working together as House Stewards, with a faculty member as a house sponsor. I am happy to report that good things are going on with our House System! Here are just a few of them:
The houses are developing their own identities, not unlike sports teams or clubs. Each house is developing a crest, a Latin slogan, a mascot, house colors, etc.
The House Stewards are doing a marvelous job of leading their peers. One of the major purposes of the House System has always been to foster leadership among the students. That is happening as these fine young men and women are showing real leadership.
The Houses meet most Fridays for Bible study, praise and worship, prayer, and planning. The House Stewards and other upperclassmen lead these meetings, which gives them the opportunity to disciple those younger than themselves.
The students have been told that everyone needs a "Paul," someone to learn from, and a "Timothy," someone to encourage. Houses are beginning to pair students up so that they can pray for and encourage each other.
Houses can earn points that go toward a yearlong house competition, which is contributing to camaraderie, healthy competition, and accountability.
House Stewards have begun to periodically choose Gentlemen of Honor and Ladies of Virtue, members of their houses who have shown excellence and service in conspicuous ways. It is beautiful to see godly behavior and selfless service, not foolishness or bullying behavior, rewarded by the students.
Houses are identifying service projects around the school. House members will come together to serve their school later this fall.
Students are having fun. A few weeks back the students gathered on the field during lunch to have a House "Peg" tournament (Peg is a game the students love to play). Competition and fun ensued!
We are very thankful for our Logic and Rhetoric School teachers and for Mr. Ben Alexander, who work so hard and are giving the House System a lot of momentum. Lord willing, we will see even more good things come from our new House System in the days ahead!
Share This: