Regents Daily News: January 24, 2012
VFW Contest Winners
The Regents seventh grade writing class SWEPT the local Veterans of Foreign Wars (VFW) Patriot's Pen contest:
Winners include:
3rd place – Sarah Grace Alders
2nd place – Claire Culpepper
1st place – Haafiz Hashim – who also placed FIRST at district and Fourth at STATE!!!! Wow!!
Senior Will Alders placed 2nd in the local VFW Voice of Democracy contest.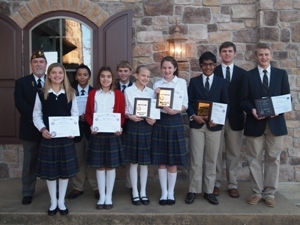 Share This: