Regents Daily News: October 2, 2019
Stupendous Soccer Seniors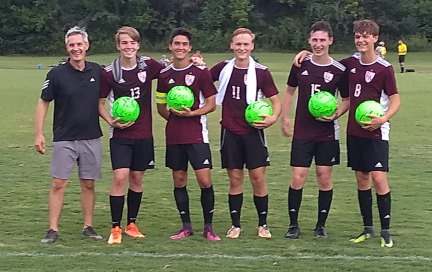 What a joy it was to honor the five Regents Academy seniors who lead the Regents Academy high school soccer team. During halftime of their final regularly scheduled home game of the season on September 27, Coach Rick Bertke presented the seniors with game balls and honored them with words of praise.
These five excellent young men have played soccer all four years of high school and helped lead the team to a TAPPS state championship in the 2018 season. The team is currently undefeated and vying for another state championship in 2019.
Pictured above are Coach Rick Bertke with seniors Zane Anderson, Knox Fairley, James Vermillion, Conner Young, and Ethan Fairley.
Share This: