Regents Daily News: April 10, 2014
TAPPS 1A State Champs!
A HUGE congratulations to  the Regents TAPPS Speech and Academics team, who won first place at the 1A State Championship. The competition took place in Waco on April 7 and 8. This was a big win for the whole team, who worked hard to prepare, competed as a team, and conducted themselves with grace and class. Great job, students!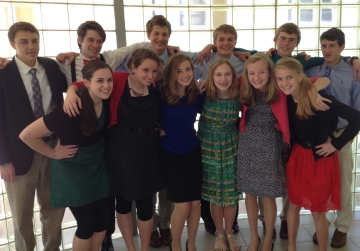 Team members from left to right: (front) Haley Duke, Alice Bryant, Kyla Alders, Annaleigh Andrews, Anne Elisabeth Alders, and Sarah Grace Alders; (back) Jon Sowell, Aaron Bryant, Caleb Henry, Sam Alders, Wesley Young, and Aaron Bertke.
Share This: