Regents Daily News: April 10, 2013
Sunscreen for Tanzanian Children
At Morning Assembly, local optometrist Dr. Ashley Risner shared with us a wonderful opportunity to partner with her in a mission opportunity.
Dr. Risner and her team are partnering with Step by Step Missions and e3 Partners for an upcoming mission trip to Tanzania, Africa, on May 3-12. They will be working with 200 visually impaired children with albinism. In Tanzania, children with albinism are often hunted by witch doctors. Also, these fair-skinned children are at risk for skin problems resulting from sunburn while living so close to the equator. We can help these children by donating sunscreen.
We are asking each Regents student to bring 1-2 tubes of sunscreen to school by Tuesday, April 23. Dr. Risner will deliver our donated sunscreen to these Tanzanian children in need. There is a collection box in the school foyer. Please make sure the sunscreen is in a 6-8 oz. tube (no aerosol cans), SPF 50 or higher, and placed in a ziploc bag.
If you would like to offer prayers of support or monetary donations, please visit www.e3partners.org/vision or www.stepbystepmissions.com/may20123mission.htm.
Donating sunscreen is one small way that we, who are blessed with so much, can serve those who have very little and are in need. Let's do so in the name of Christ and for His glory.
Pictured below is Dr. Ashley Risner with Kelly Young.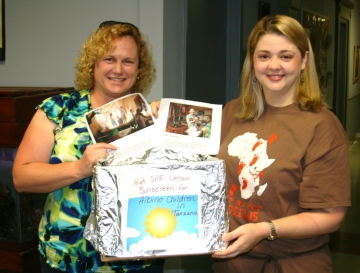 Share This: