Regents Daily News: December 20, 2013
Azleway Gift Drive
This Christmas season Regents partnered with Azleway Children's Services once again to provide toys and Christmas gifts for foster children.
Regents families and two business supporters donated $837, with which Regents parent Holly Middlebrook and Regents secretary Debbie Moore were able to buy everything on the Christmas list for 12 children.
Thank you, Regents school family, for your wonderful generosity. It makes me glad to think of these children seeing these presents under the tree with their names on them. Thanks also to Liana Berry for allowing Regents to work together with Azleway.
Nine Regents freshman collected the gifts and delivered them to Azleway, and then the students were given a tour of the Azleway facility by their wonderful staff.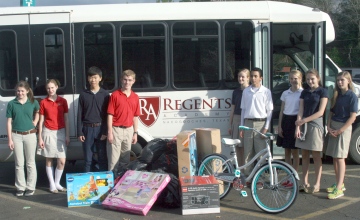 Share This: