Regents Daily News: June 23, 2010
Hello, Roy Bradley
God has been very gracious to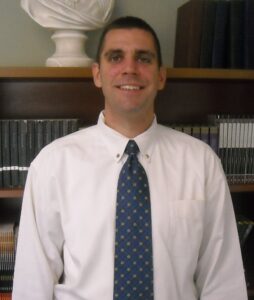 Regents Academy. We see His grace and providence at every turn — buildings, books, playgrounds, SAT scores, science labs, and all the rest. But there is no clearer evidence of His goodness than the people He has gathered into our community. St. Paul wrote to the brethren in Philippi, "I thank my God upon every remembrance of you." The parents, children, board members, teachers, and friends of Regents Academy are precious gifts from the Lord's hand. Every time we see their faces, we ought to be moved with profound thankfulness.
The newest face in the Regents Academy faculty is Mr. Roy Bradley. The Lord's guiding hand has been evident as He led Mr. Bradley and his family to our school, and we are indeed thankful.
Mr. Bradley will teach omnibus, logic, and government in our Logic and Rhetoric schools. He is a graduate of Sam Houston State University with a B.A. in philosophy and music, and he has completed graduate work at Truett Seminary in Waco and B.H. Carroll Theological Institute in Arlington. Roy and his wife Christy have two children: Aaron (2) and Claire (5 months).
They moved to the area from Houston, and if you are at the school these days, there is a good chance you will see him around. If you do, introduce yourself and take a moment to begin getting to know him. He is a bright, energetic, personable man who is going to do a great job in the classroom.
Share This: