Regents Daily News: September 13, 2017
In Loco Parentis Maximized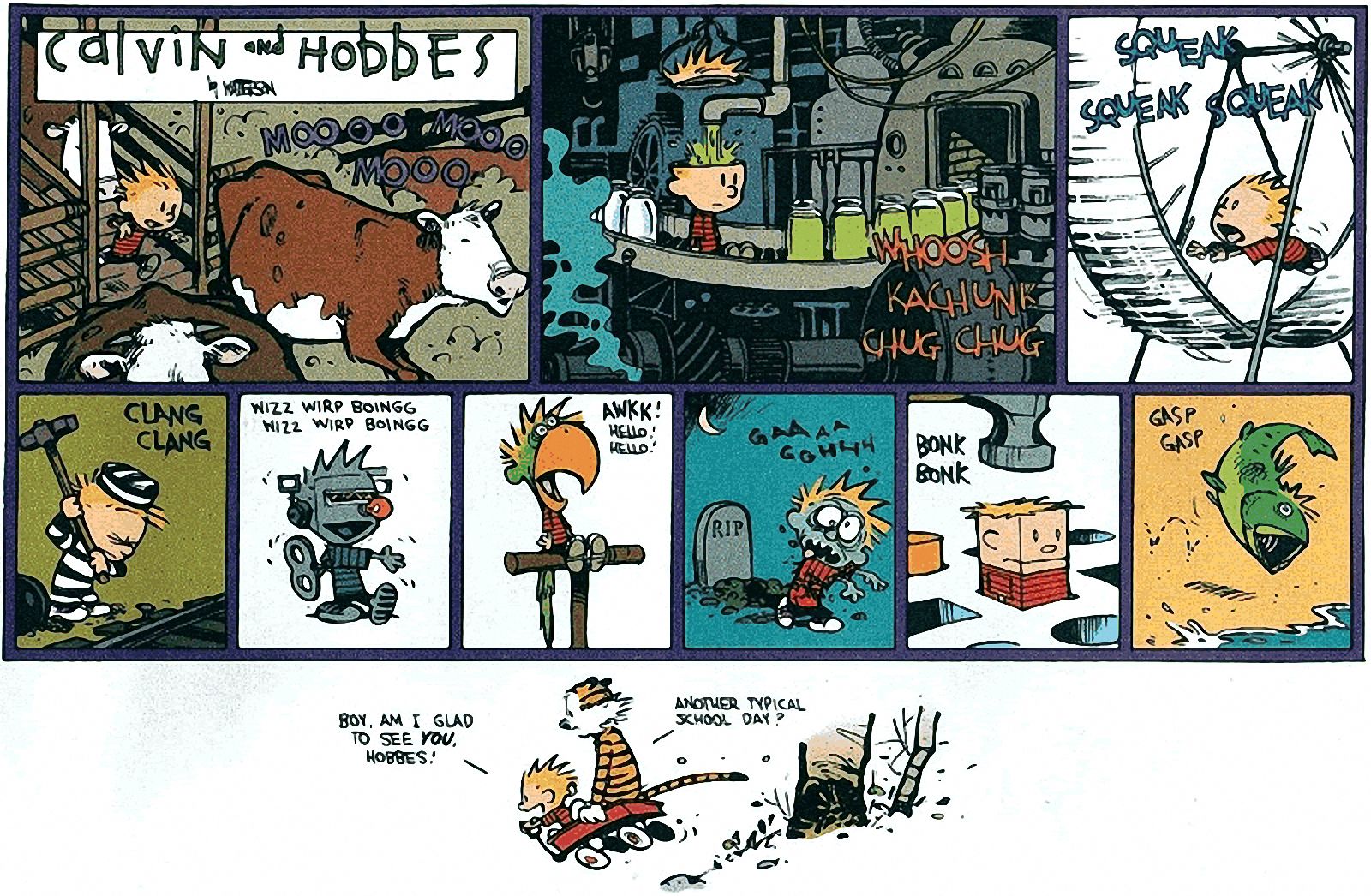 There is a Calvin and Hobbes cartoon that pictures Calvin as a square peg being beaten into a round hole, then as a zombie, a robot, a hamster on a wheel, a parrot, and a prisoner on a chain gang. At the end of the strip, Hobbes asks, "Another typical day at school?"
I hope you (and your children!) don't share Calvin's impressions of school, but I know you want your child's experience at school to be as happy and beneficial as possible. Your child's teachers share that desire. The Christian school and parents have a unique partnership, in which each has specific roles and responsibilities.
Please allow me to share a few thoughts on what parents can do to maximize this partnership and make your child's experience at Regents Academy as beneficial as possible.
First, realize the fact that the school relationship is a partnership, not a solo act.
Resist the temptation to be a drop-off parent who thinks, "They do the educating. I do the parenting. I pay them thousands of dollars so that I don't have to worry about the education part." No, parenting is educating. We are your partners in fulfilling your responsibility under God to educate your children.
When you approach school as a partnership rather than as a responsibility that you have abdicated or shifted, it changes everything. You get involved with the day-to-day progress of your children. You go over spelling lists and discuss the literature of the week and review math facts and probe your child's Bible knowledge. You spot weaknesses to work on and strengths to praise and celebrate. You see the teacher's role as an adjunct to what you are already doing. You support the teacher in countless ways as a co-laborer rather than as a mere spectator. You develop trust with your child's teacher as you work together with him or her.
Teachers love it when parents are deeply involved with the academic progress of their students. And the opposite is true as well: teachers get frustrated with parents who are distant and only minimally involved in the education of their children. We, as parents, must take seriously our responsibility under to God in the education of our children.
Second, cultivate a healthy skepticism that follows the dictum, "Trust but verify." In short, don't believe everything your children tell you happened at school.
I am not suggesting that you regard your child as a liar. I am suggesting that you be wise. A pastor I once worked with used to say, "There are three sides to every story: my side, your side, and the truth." There is truth to his statement. Your child will inevitably tell the story from her perspective and so will tell it a certain way. She will include certain details while omitting others. She will reverse the order of events or remember something wrong or make inferences that sound like facts.
Or perhaps she is lying. That is indeed a possibility. Solomon wrote in Proverbs that foolishness is bound up in the heart of a child. That includes sins like lying. If you believe your child is incapable of lying, you should go back to what the Bible says about her.
So don't automatically believe everything your child says about what happened at school. Instead, try to understand what happened as best you can. Ask your child questions in a calm and even tone. Seek facts, not interpretations and inferences. Then, call or approach your child's teacher as soon as possible. Avoid accusing your teacher before hearing her perspective. Ask what happened and listen carefully.
I have observed parents who listen to the story their child tells and then go to the teacher and point the finger angrily, accusing the teacher of unfairness or inconsistency without allowing the teacher a single word of explanation. Also, I have observed parents who listen to the story their child tells, accept every word, and then refuse to go to the teacher at all but instead bury the grievance, which quickly rots into bitterness and anger. In either case, this is a formula for a poisoned parent-teacher relationship. The Bible calls us to peace, not poison.
My own children have come home and reported an occurrence at school that was unsettling or problematic. We talked to the teacher and found out that what really happened was quite different from what we were told. Or, we found out that what happened was accurate, but it had been dealt with. In either case reacting based on my children's account alone — or reacting with my emotions bent out of shape — would have been the worst thing I could have done.
A teacher once said, "If you promise not to believe everything your child says happens at school, I'll promise not to believe everything he says happens at home." Sounds like a good agreement to abide by.
Finally, let me suggest that if you have a problem or an issue with your child's teacher, go directly to the teacher as soon as possible.
You will be tempted to gossip about it with others. You will be tempted to bury it until it festers into anger or bitterness. You will be tempted to send a scathing text or email. You will be tempted to stew over it until it bursts out later. You will be tempted to do lots of things that are neither productive nor biblical.
The right response is to go to your child's teacher with a gentle and gracious spirit and simply ask to talk about the issue. In Matthew 18 our Lord taught us that if someone sins against us, we ought to go to that person and tell him his fault. Talking about it with others, unless you are genuinely seeking counsel in dealing with the issue, is not an option. It requires humility in parents to go to a teacher with the right spirit. It also requires humility in a teacher to be willing to acknowledge his faults and rectify them. It takes wisdom, too, because sometimes the teacher has done nothing wrong or has unintentionally hurt feelings.
Regents teachers are not only willing to talk things over with you, they are eager to do so. Almost every week, I see or hear of faithful parents who come to a teacher and share their concern, and the issue is dealt with peacefully and effectively. We live in a community, with teachers partnering with parents to teach and train children for Christ. We are fellow believers — grown-ups — who are called to act in love.
Now, I know that these are your children, and it is easy to get emotional or upset when you perceive an issue with a teacher. All the more reason to pray, get control, and go straight to the one who needs to work it out: the teacher.
What do you do if that meeting doesn't yield results? That is the time, perhaps, to go to the headmaster and seek another hearing. Maybe there is more information that will clear things up, or maybe the headmaster can go to the teacher and get to the bottom of things and bring a resolution to the matter.
Please know this, parents: we are thankful for you and for the trust you place in us.
Share This: