Regents Daily News: November 19, 2010
We Are Thankful Indeed!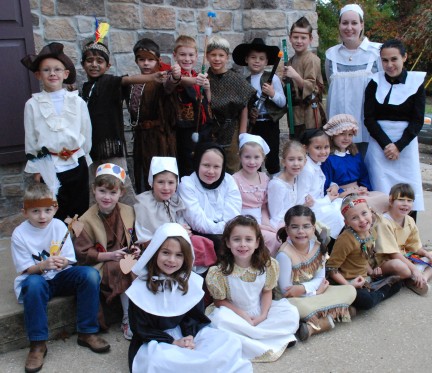 Our first and second graders caused no little excitement as they entered the hallway decked out in their best Native American and Pilgrim costumes!  Instead of eating their regular lunch, the children gathered in the second grade room to feast on a myriad of delicious items ranging from pomegranates to tandori bread and fresh raw carrots to tender smoked ham.  Our sweet teachers thanked the mothers and grandmother who had dedicated so much energy into the feast and then the class prayed.
The scene was beautiful as my gaze passed from one precious face to the next, thinking about how much the children are loved and prayed for in the tiny little school on the hill.  I asked a few of the children, "Who were the Indians and Pilgrims?"  One or two pointed around the room, identifying their friends that were dressed as Indians or Pilgrims.  One little first grader told me rather matter-of-fact, "The Pilgrims were from England and they came over on the Mayflower."  When asked what they were thankful for, most answered like a good little lad or lass in Sunday School with "God!"  My favorite response was the second grader who didn't miss a beat when he told me that he was thankful for "Tyron!"  This particular second grader happens to be my nephew and this wasn't a name I was familiar with.  My puzzled look triggered him to quickly whip out his penpal card.  Lo and behold, wouldn't you know…his pen pal from New Zealand is named Tyron!
First and second grade has much to be thankful for as I'm sure you do as well during this thankful season!
Share This: