Regents Daily News: December 17, 2019
Congratulating VFW Contest Winners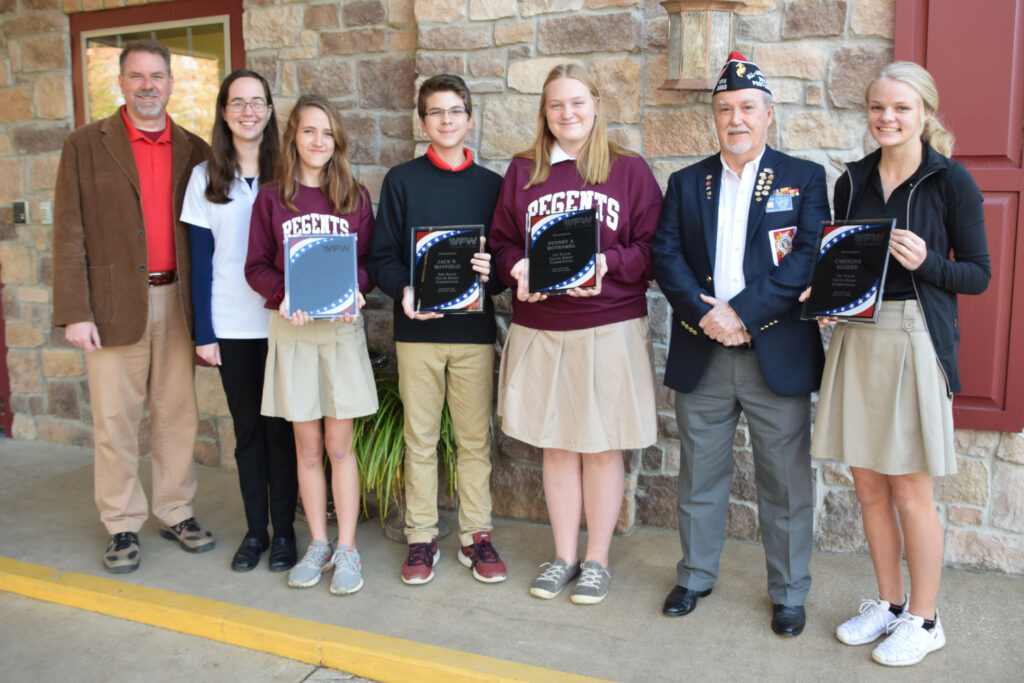 Regents Academy students won the top prize in the high school division and swept the junior high division of the 2019 Veterans of Foreign Wars (VFW) youth competitions which focused on this year's theme, "What Makes America Great?" VFW Post 3893 Commander Don Kirkley presented awards to the winning students at Friday's morning assembly.
Sydney Rotramel, daughter of Blaine and Melissa Rotramel, won first place and was awarded a plaque and a check for $100. Jack Mayfield, son of Brian and Jodie Mayfield, placed second and was also awarded a plaque and a check for $75. Third place – which also was accompanied by a plaque and a check for $50 – was secured by Rachel Cunyus, daughter of Michael and Lori Cunyus. All three students are members of Miss Jenna Herrington's 7th grade writing class.
Commander Kirkley also awarded junior Caroline Alders, daughter of David and Nicole Alders, a first place plaque for her winning audio essay. Caroline also won a $500 scholarship which will be presented to her upon her graduation next May. 
Pictured with the students (from left) are Headmaster David Bryant, Miss Jenna Herrington, Rachel Cunyus, Jack Mayfield, Sydney Rotramel, Commander Don Kirkley, and Caroline Alders.
Congratulations, students!
Share This: