Regents Daily News: October 29, 2010
A Butter Braid Triumph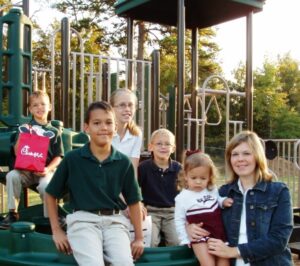 Our Butter Braid fundraiser was a great success!
We raised more than $3,000 that will be used to pay off our playground. Pictured are the Butter Braid prize winners: (l. to r.) Ethan and Knox Fairley, Megan Marshall, Owen and Esther Fairley, and Mrs. Ellen Fairley.
Megan Marshall won the grand prize of a $50 Amazon.com gift card for selling 66 loaves of Butter Braid, while the Fairley family came in second place and won a Chick-fil-A gift certificate for selling 45 loaves of Butter Braid.
Great job, Regents school family!
Share This: