Regents Daily News: May 3, 2012
Falling in Love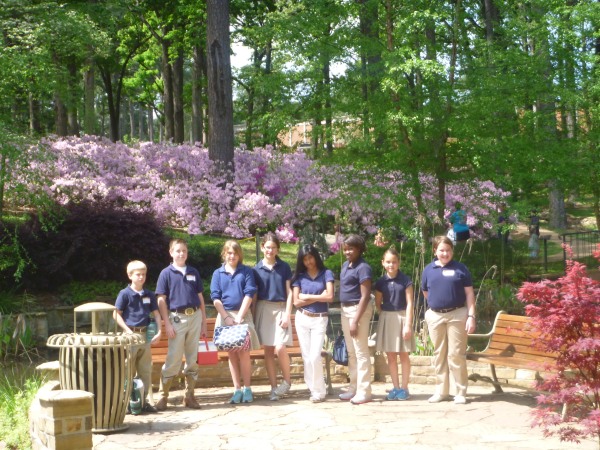 Although I'm quite serious and down-to-business in my teaching manner, I'm still a fool for falling in love. The day dawned bright and sunny with a gently cool breeze that was just perfect for falling in love. Sixth grade had a trip planned for N.W. Norton Art Museum in Shreveport and I knew that morning that the day was going to be grand!
We arrived promptly at the museum which is nestled in the middle of a neighborhood and hugged tightly with blooming azaleas. Our group was greeted by a member of the staff and then our personal docent, Ms. Newberry Mills, rushed us off for our delightful journey into America's Western art scene. Mr. Charles Russell was the featured artist for the day and we completely forgot ourselves as we listened intently to our enthusiastic docent. One could almost smell the horses and feel the heat of the outdoors as we studied piece after piece and learned more about this colorful artist.
After a trip to the basement for a creative activity in the fashion of Mr. Russell, we gathered up our sack lunches and set out to conquer the gardens of the museum. Here we brushed up against more intriguing art as we laughed at the river otters caught playing near the stream and whispered quietly so as not disturb the grizzly waiting for sockeye. As for living, breathing animals we cooed over the brood of tadpoles, smiled as we watched the adorable red-eared turtles bask in the sun and literally held our breath each time we came across a snake!
After lunch the party was anxious to return to the museum so that we could saunter through the entire museum. We passed from one room to the next sighing at the beauty of each artist. One room held a lovely still life of a vase of vibrant red flowers. Upon closer examination, one student declared the flowers to be POPPIES! In one voice my students began to recite "In Flanders Fields" and the fact that the security guard was staring at them strangely didn't deter them a bit!
A turn down a new corridor brought us into the room where Mr. Norton has displayed his finest guns! The noise level just kept getting louder and louder with each new discovery. A German pistol here, a Cowboy riffle there and a fancy handcrafted gun for R.W. Norton put the class over the top. A gentle "shhh" coming from their teacher reminded them to lower their voices but it certainly didn't extinguish their delight!
I kept an eye on my watch and tried to keep the pace rather quick though most of my students could have lingered for several more hours. I had mamas and papas waiting for us back in the Lone Star State. You know it's been a great day when the teacher has to bulldoze her class out of the fine arts museum! At one point in the education center, a museum educator asked about my "field trip budget." I stared blankly back at her and quizzed, "What budget?" It was her turn to look confused so I tried to mend the situation with a subtle chuckle and added, "There's too much to learn in 6th grade!"
6th grade is a great place to fall in love!
Share This: