Regents Daily News: January 11, 2012
A Trip to the Big H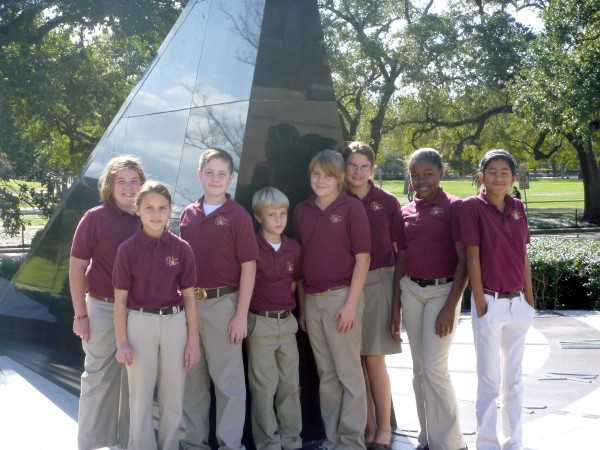 Some teachers give their students gifts of candy and hand sanitizer at Christmas, and some teachers take their students on field trips.
6th grade returned from Houston last week after an eventful day visiting a fine Houston museum. I was informed of the new exhibit at the Houston Museum of Natural Science as I quickly darted along Loop 224 in my hometown. The sign was a general blur as I typically drive as though I'm in the last lap of the Indy 500, but I saw enough to decide that my class must see this temporary exhibit.
We arrived at the museum and were in desperate need of a restroom when a staff member asked if he could interest us in a chemistry demonstration around the corner. I quickly thanked him and gathered my little chicks so as not to miss any more of the demonstration. The chemist was a nice gentleman that introduced us to polymers, bases, acids, and chemical reactions and we swallowed all that with a smile on our faces! Quietly I wondered why I couldn't have had him as my science teacher and all the while packing away any little teaching tidbits that I might pull out later.
After this super demonstration, we followed the signs to the Civil War exhibit where we were swept away with all things Confederate and Union. Displayed on the walls were all sorts of fun and interesting facts about the causes and people involved in the development of the Confederate States of America as well as the many bloody battles that ensued. We were able to stand in front of the original 13th amendment complete with Abraham Lincoln's signature. (If you don't remember what that amendment did for our country, you ought to consider coming back to 6th grade!) There was a section in the exhibit where my students could attempt to decode "secret" messages based on the codes of some of the soldiers during that time period. As we neared the end of the display, there were cases and cases of original photographs and weapons along with fifes and crutches.I am hoping that this trip made the 1860's more real to my students.
After a lovely lunch outside the museum, we returned for the museum's permanent collection. Here we were able to see some of the animals that we study in science as well as some of the creatures my students studied as 5th graders. The air was ringing with, "Remember, last year we studied these," or, "You know, Miss Hoffmann, taught us about this!" Then delight hit as we rounded the corner and entered the gem collection! There were brilliant gems gleaming from every direction and one of my ladies found the vaulted area where jewelry from around the world is kept. Shining tiaras and necklaces with gems the size of duck eggs decorated the walls of the vault.
My students were truly disappointed when I announced our need for departure and after a quick stop for a milkshake to top the day off, we arrived safely back home!
Some teachers give their students reasons to dislike school and some teachers give their students something to talk about.
Share This: