Regents Daily News: August 29, 2011
Welcome to the Family!
Regents Academy welcomed 22 brand new students this year. They are pictured below (with one returning KPrep student). What a lovely group of ladies and gentlemen.
Welcome to the Regents family, new students!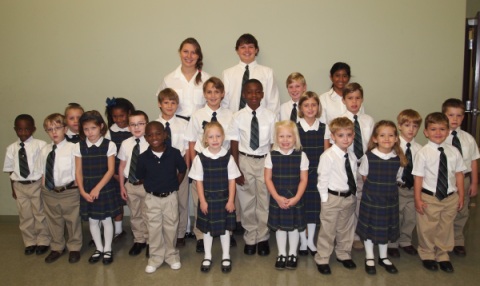 Pictured are (front row) Joe Mims, Seth Lekas, Ryleigh Swann, Gabriel Shipp, Caiden Smith, Alyssa Patterson, Lilly Stanaland, Matthew Dicks, Rachel Cunyus, and Benjamin Satir; (middle row) Jordan Menzies, Tristen Perez, Christian Castleberry, Jackson Castleberry, AJ Hubbard, Jordan Dachelet, Mason Rasberry, Jacob Lekas, and Robert Kimbrough; (back row) Elizabeth Castleberry, Wilson Castleberry, Winston Hebert, and Mali Dachelet.
Share This: